Contact West Slope Terrace
The best way to contact West Slope Terrace is to call 503-297-2111. If you are looking for available listings check out our home page for how to find these. You can also check out the official site by CLICKING HERE. Full West Slope contact info below.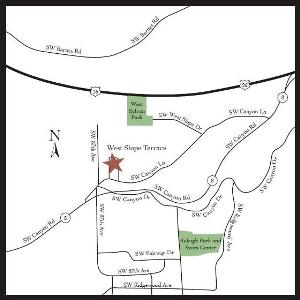 Location / Contact Info
West Slope Terrace:
8585 SE Canyon Ln,
Portland, OR 97225
Phone:
503-297-2111
Fax:
503-292-1371
Email:
westslope@cresapts.com
Office Hours:
**May vary seasonally
Monday - Friday:
9am - 6pm
Saturday:
10am - 5pm
Sunday:
Closed
Contact WestSlopeTerracePDX.com Webmaster
WestSlopeTerracePDX.com is an independently made educational and resource site for the West Slope Terrace apartment complex located in Portland, Oregon. The form below is for contacting the webmaster of this site ONLY. If you fill out the form below none of the staff at West Slope will see your request. This is for administrative purposes only.